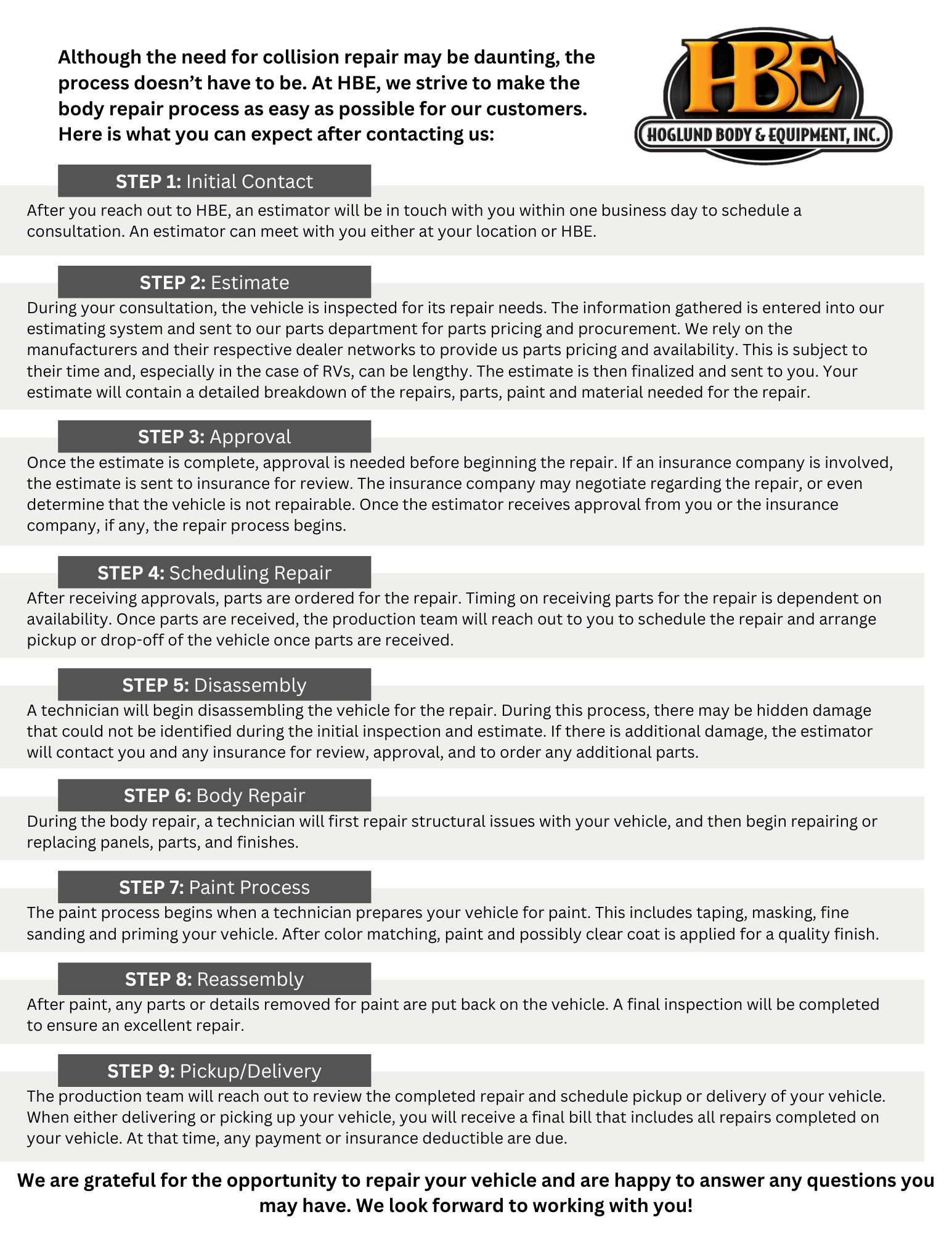 Frame Repair
If you're experiencing frame damage after an accident, Hoglund Body & Equipment is the perfect place to bring your vehicle! With our new state-of-the-art, Josam frame rack, we have the capability to repair frames of commercial-sized vehicles and get you back on the road safely.
Damage to the frame of a vehicle usually happens as a result of a collision. The severity of the damage generally depends on the type of accident you were in, where on the vehicle the impact occurred, and the force of the impact. Our trained technicians and estimators have the expertise and tools to identify and make the necessary repairs to ensure your vehicle is repaired to pre-accident condition.
Here's what it looks like when vehicles are hooked up to our frame rack system!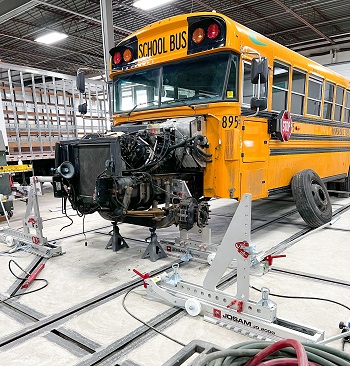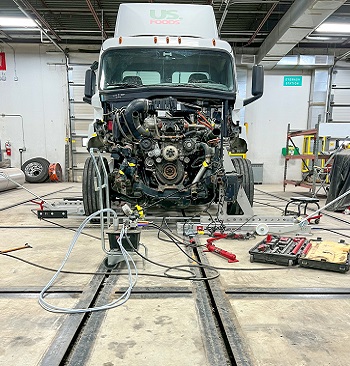 ---
We installed our Josam frame rack in 2022. After installation, we had an expert come on-site to train our technicians to ensure the best repair possible for our customers.
The process of installing our frame rack was to assemble and weld the frame rail pieces together. We then had to cut and remove the original cement floor in order to install the frame rails. After that, concrete was poured to make the frame rail stationary while also ensuring the frame rails remained level.
Once our frame rack was installed, a trainer from Josam came to our site and trained our technicans on how to properly hook up a vehicle to the machines, how to read the diagnostics, and how to properly ensure the repair is done correctly.
Test Page for Photo Slider
This entry is hidden from site navigation menus. It is a preview of how a photo slider can be added to a page. Just like in the portfolio section of the site, best results are achieved when the before and after images are the same size.
There is content added below the photo slider to illustrate that it can be put within the page content and doesn't need to be at the bottom all the time.
Alignments
Hoglund Body & Equipment utilizes a top-of-the-line Bee Line Alignment System to ensure your alignment is done correctly and efficently.
Our alignment system uses lasers to measure a vehicle's alignment and sends those measurements electronically. Then, our trained technicians read the diagnostic output and get to work making adjustments to correct the issue.

Solar Panels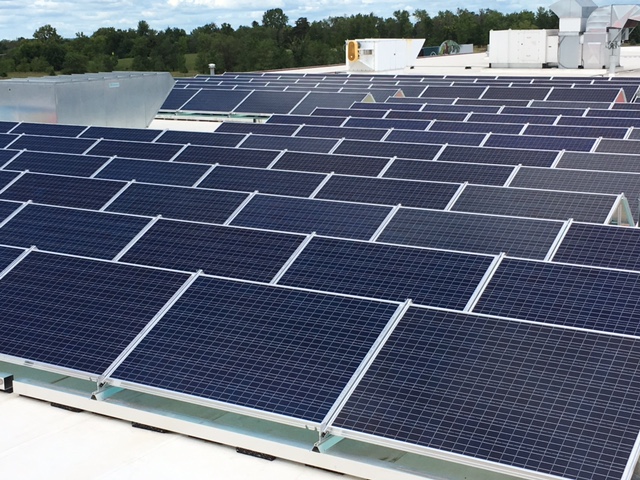 In 2016, Hoglund Body & Equipment invested in two solar arrays to reduce our impact on the environment. Currently, there is a 19.68kW array and a 39.36kW array producing approximately 9,120kWh of energy monthly. To view the production of each panel and its positive impact on the environment, please click on the links below.
http://egauge26159.egaug.es/56A7C/kiosk2.html
http://egauge26158.egaug.es/56A7C/kiosk2.html
RV and Travel Trailer Repair
Damage can be caused by accidents, extreme weather, or just normal wear and tear. Regardless of how it happened, damage to your vehicle or trailer can put a pause on your travel plans. From Class A motorhomes to pop-up campers, Hoglund Body & Equipment can you get back to your adventures!
RVs, campers, 5th-wheels, and even horse trailers are just some of what we can repair at Hoglund Body & Equipment. Since these vehicles are used for traveling, you want them to be in their best shape. Common types of damage repair we perform are:
Exterior collision repair
Fiberglass repair
Fabrication
Hail & wind damage repair
Refinishing & custom paint work
Roof & window leak repair
Decal replacement/repair
Not sure if you're damage fits within the list above? Give us a call, we provide mobile estimates!
Fabrication and Welding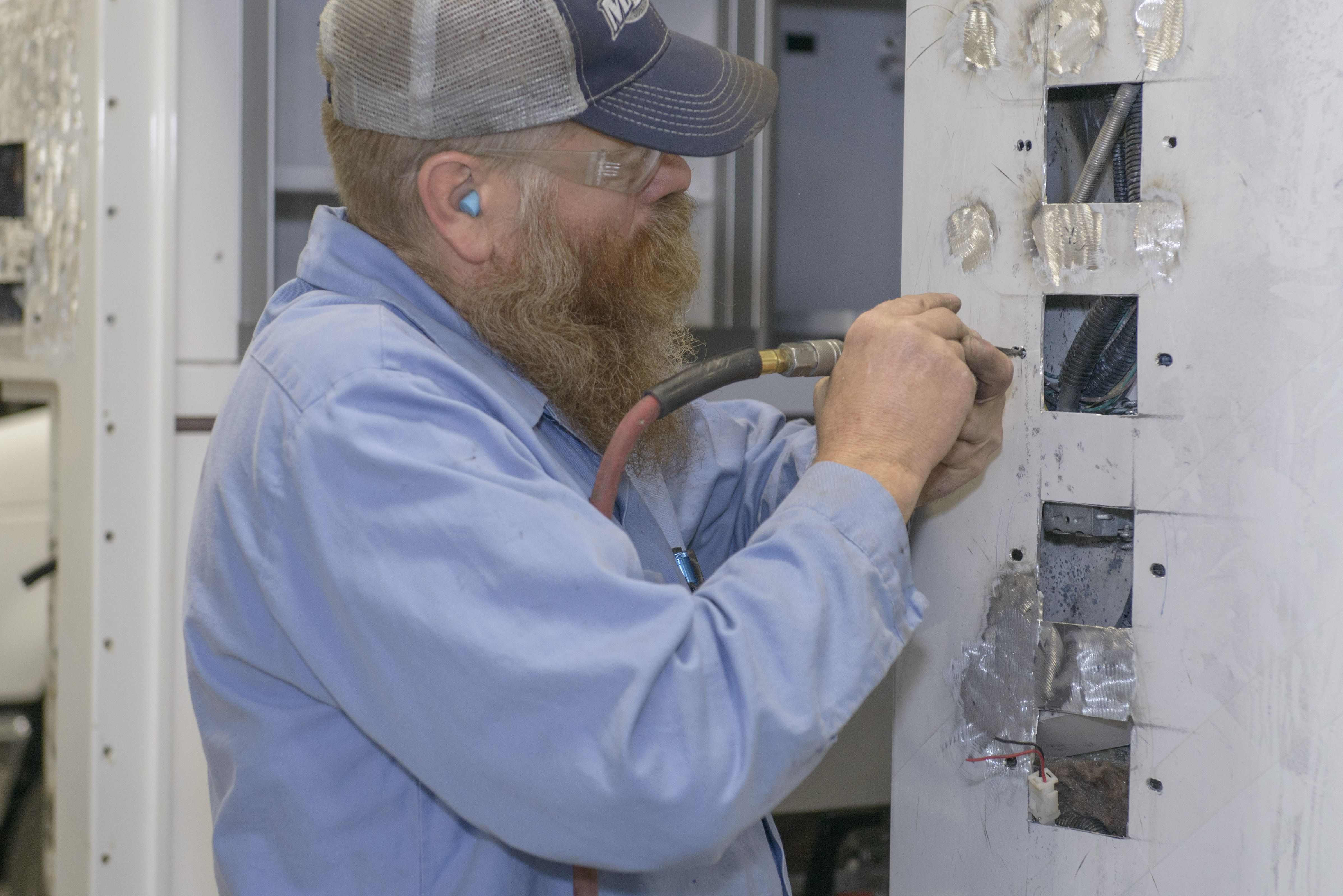 Hoglund Body and Equipment's metal fabrication and welding department can make your customizing ideas come to life!
Computerized metal brake
Ability to bend material 1/4" thick and 12' long
Metal sheer and plasma cutter will cut any length
Many material options to choose from
Hoglund Body and Equipment
PO Box 1147
307 Chelsea Road
Monticello, MN 55362
Phone (763) 295-5000
About/History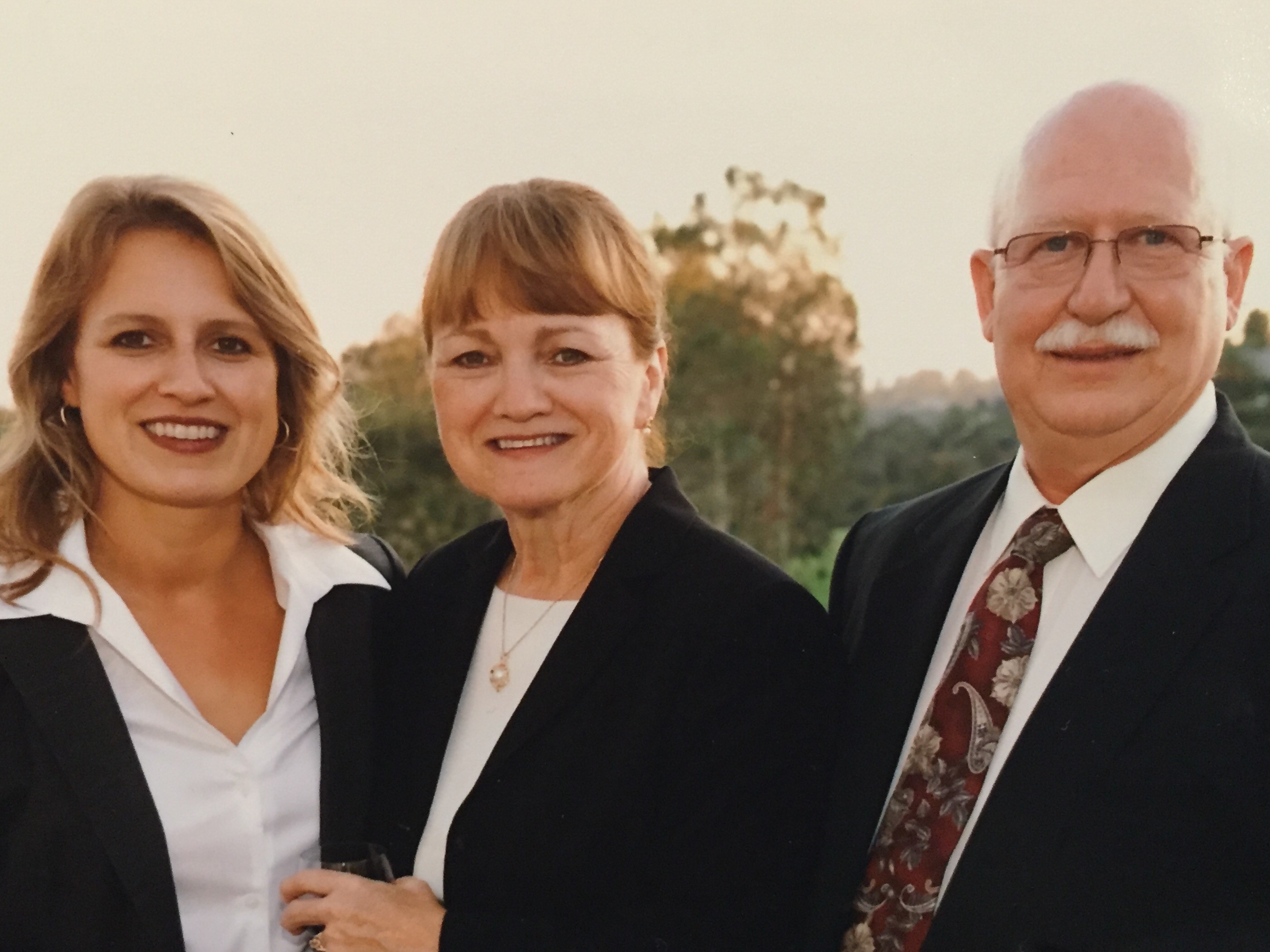 ---
In 2006, Wayne and Lisa Hoglund and their daughter, Holly Hoglund Klein, opened Hoglund Body and Equipment in Corcoran, Minnesota. Hoglund Body and Equipment began with 7 staff in a 6,000 square foot facility. In September, 2010, we moved to Monticello, Minnesota, opening a 33,000 square foot facility and increasing our staff to over 20 employees. Hoglund Body and Equipment has two 60-foot paint booths and a 75-foot sandblast booth, as well as two shifts for our customers' convenience.
Hoglund Body and Equipment is focused on providing the highest quality repairs and service to our customers. From the estimate to the delivery, you can trust our experienced and efficient team of certified technicians to refurbish and restore your vehicle and equipment to its previous condition. From minor repairs to structural overhauls, Hoglund Body and Equipment does it all!
Mission Statement
---
To assist our customers in achieving their goals by providing outstanding commercial vehicle body repairs at a competitive cost.
Culture Statement
---
To strive for excellence in our service and repairs, build positive relationships with customers and team members, and challenge ourselves to continuously improve as an organization.
Quote Request
To request an online quote, please fill out the form below in its entirety. You will be contacted by one of our representatives shortly.
Welcome to our Portfolio page! Click on a project to view the quality of work Hoglund Body and Equipment provides. From paint to a complete overhaul, Hoglund Body and Equipment does it all!
Sandblasting
With the use of our over 60-foot sandblast booth we can renew the look of your equipment, no matter the size! Whether your equipment has undergone wear and tear over the years, or you bought equipment used and you want it to look its best, Hoglund Body & Equipment's experienced technicians will give your equipment new life!
Sandblasting is a technique used to remove paint, rust or other residues from a surface, typically metal. High-pressure air is used to propel a stream of abrasive particles at a target, effectively cleaning the surface of all contaminants. This is often done in preparation of new paint or to smooth the surface of the material.
A look inside our sandblast booth: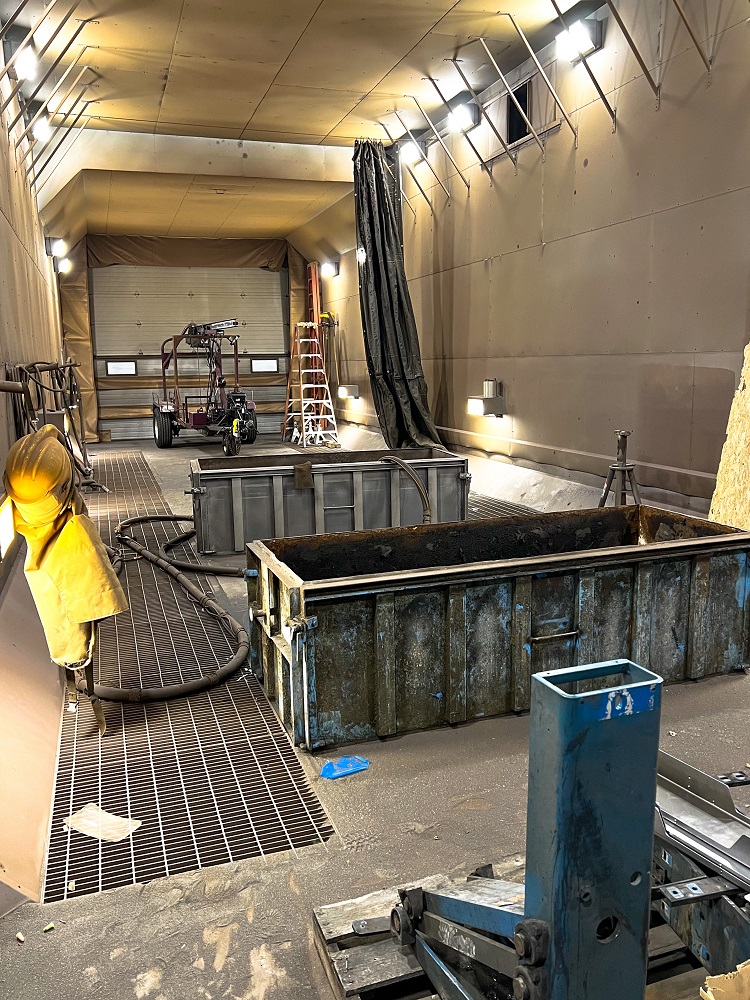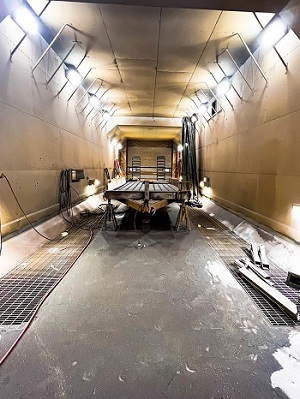 The photo on the left is two containers that were sandblasted to be prepped for painting. The container in the back of the photo was sandblasted and the container in the front was not sandblasted yet.

The photo on the right is a trailer that was sandblasted to remove the rust so it could be painted. From here, the trailer went to the paint booth to be primed and then painted.
Paint and Restoration
Whether you have rust damage, are rebranding used vehicles, or want to spruce up the look of your current vehicle or equipment, Hoglund Body & Equipment can help!
Our facility is equipped with an over 60-foot sandblast booth and two 60-foot paint booths to accommodate any commercial-sized vehicle. This, combined with our Axalta computerized paint-matching technology and our highly trained paint technicians, ensures you get the best quality restoration or paint job.
Rust Removal
Knicks and scratches in your vehicle's paint can leave those spots vulnerable to rust. Leaving rust spots unfixed can cause your vehicle's structural integrity to degrade and weaken, anywhere from your floor panels to your fenders.
The first step in the rust removal process is sandblasting. Sandblasting is used to remove paint, rust, or any other residues from the surface in order for the new paint to adhere correctly.
Paint prep is the second step in the rust removal process. This step consists of any disessembly and the covering and taping off of the pieces that are not meant to be painted.
After paint prep, the unit is primed for painting. Priming is done to ensure a high-quality paint adhesion and finish.
The next step in the rust removal process is painting. This process is completed in one of our oversized paint booths by our expertly trained technicians.
The final step is reassembly. This is when our technicians put the completed pieces back together so you can pick-up your unit!
Complete Paint Job
Whether you bought used equipment that needs rebranding, you want to freshen up your fleet, or your motorhome needs some new paint, Hoglund Body & Equipment can help you accomplish that!
A complete paint job process begins by disassembly of the equipment or vehicle. This is done for mutliple reasons, mainly to ensure each piece gets correctly painted and sealed or so pieces that aren't getting painted stay that way.
After disassembly, the paint prep process begins. This includes sanding, taping, and covering for overspray. Sanding is done to remove any imperfections and old paint so that the new paint coats have a surface to grip onto. Taping and covering for overspray are done to cover the parts that are not getting painted.
Next, depending on the type of paint being used, a primer may be sprayed on. After this, the process of painting begins. This is typically done in sections - the cab, parts, hood, doors, and box. Then, it is left to cure in our paint booth.
After all of the paint has cured, it's time for reassembly.
Depending on what the vehicle or equipment looks like, the final step in this process may be decals.
Collision Repair
With Hoglund Body and Equipment's state of the art facility and highly trained staff, we will repair your vehicle back to pre-accident condition while minimizing your inconvenience.
Experienced staff will work with any insurer
Free mobile estimating
Two shifts for your convenience
All repairs are backed by Axalta's Assurance of Quality
Frame straightening and wheel alignments
33,000 square foot facility
Two 60-foot drive through paint booths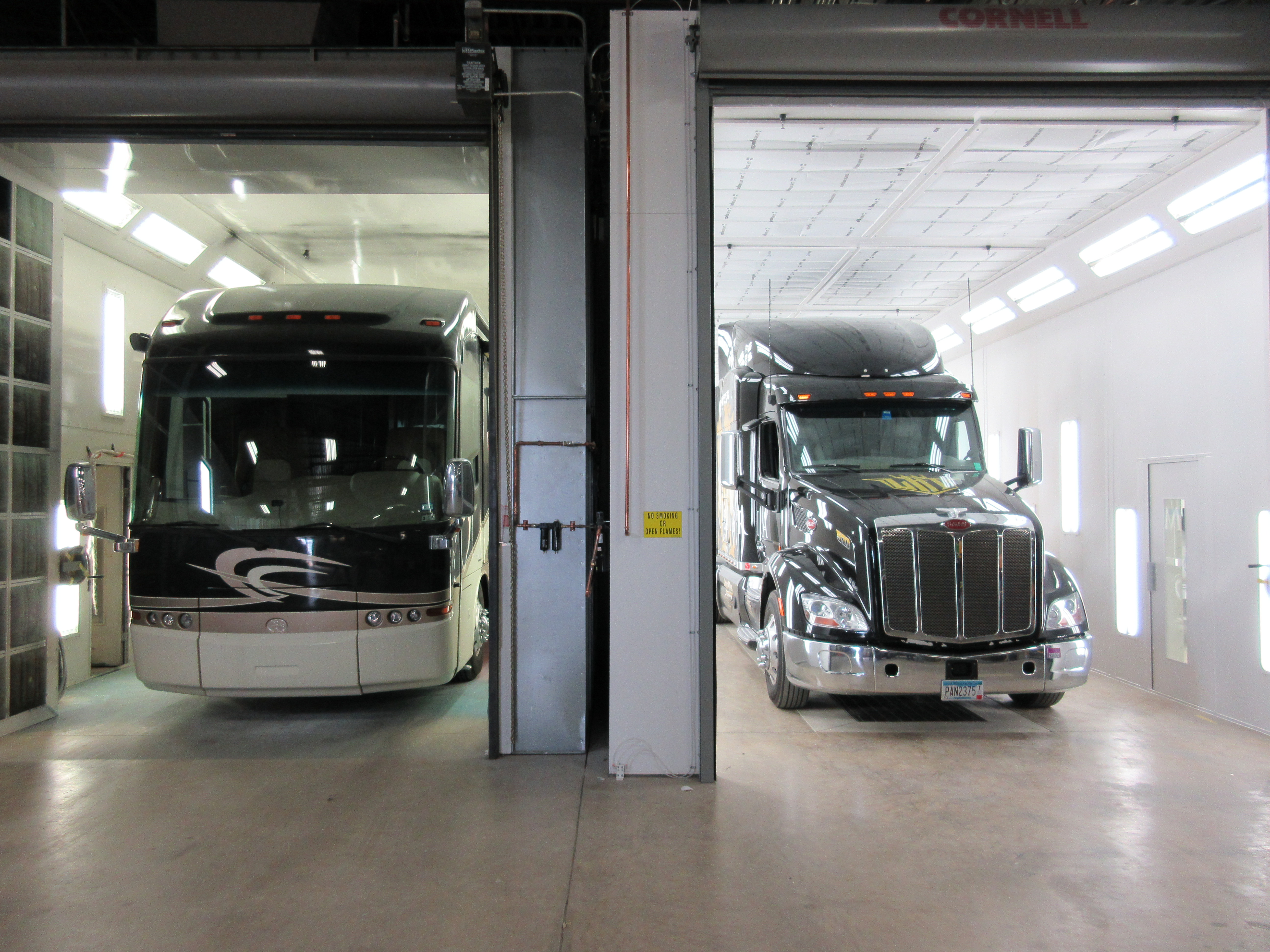 ---
Hoglund Body and Equipment offers the following services:
Body Repair

Trucks and Trailers
RV's and Travel Trailers
Luxury Coaches
School Buses
Commercial Buses
Emergency Vehicles
Heavy Equipment

Sandblasting
Alignments
Refurbishing (Paint and Restoration)
Fabrication and Welding
Mobile Estimates
Free Pick-Up and Delivery

Trailer Repair
We specialize in repairing trailers of every shape and size! Low-boy trailers, 30-foot car trailers, or even motorcycle trailers -- we can fix them all!
Rust, water damage, roof leaks, and peeling paint are just some of the damages we can repair. Don't wait until the damage becomes a safety issue or compromises the workability of your trailer, call us today for a free estimate!

RV & Travel Trailer Repair
Adventuring is tough and accidents happen! We're here to get you back on the road so you can keep exploring.
Extreme weather conditions, accidents, and animal collisions can all result in body damage. Whether you're in need of fiberglass repair, window and roof leak repair, or your paint and decals are fading, we can get your RV or trailer travel looking its best!

Commercial & School Bus Repair
From leaking windows to floor repair, we can get your bus back to tip-top shape!
These vehicles are mostly used as a mode of public transportation, and since these vehicles are responsible for multiple people at a time, the structural integrity and safety is top priority. Call us today so we can get your bus up to safety standards while minimizing your downtime!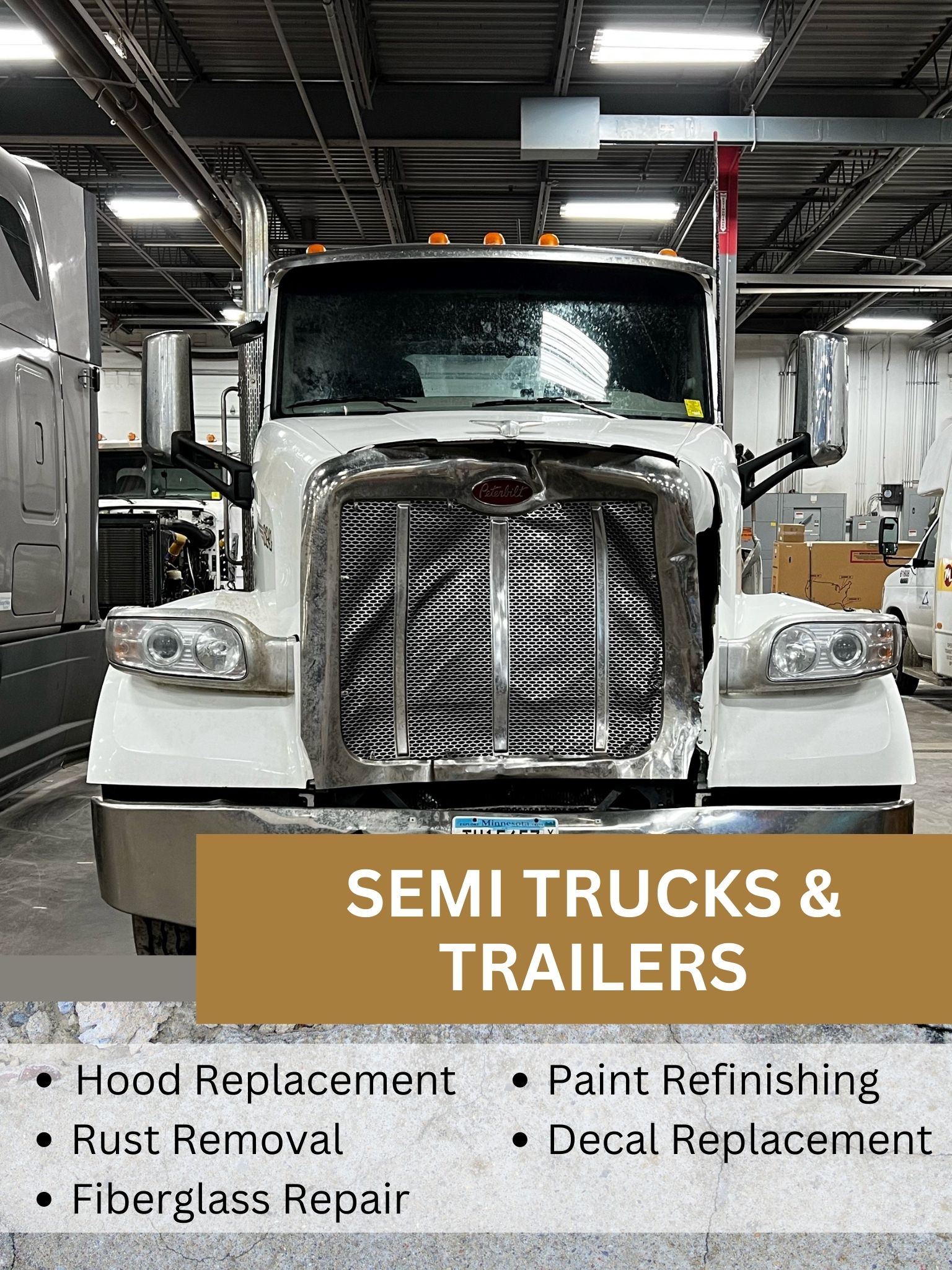 Semi Tractors & Trailers
Collision repair, frame realignment, wheel alignment, rust repair, or a total paint job - we can do it all!
Equipped with the necessary technology, equipment, and skilled technicians, our facility is well-prepared to take on even the most significant repairs. Whether it's fixing minor damages or or addressing major issues, we're ready to provide a repair solution for you. Call today to speak to an estimator!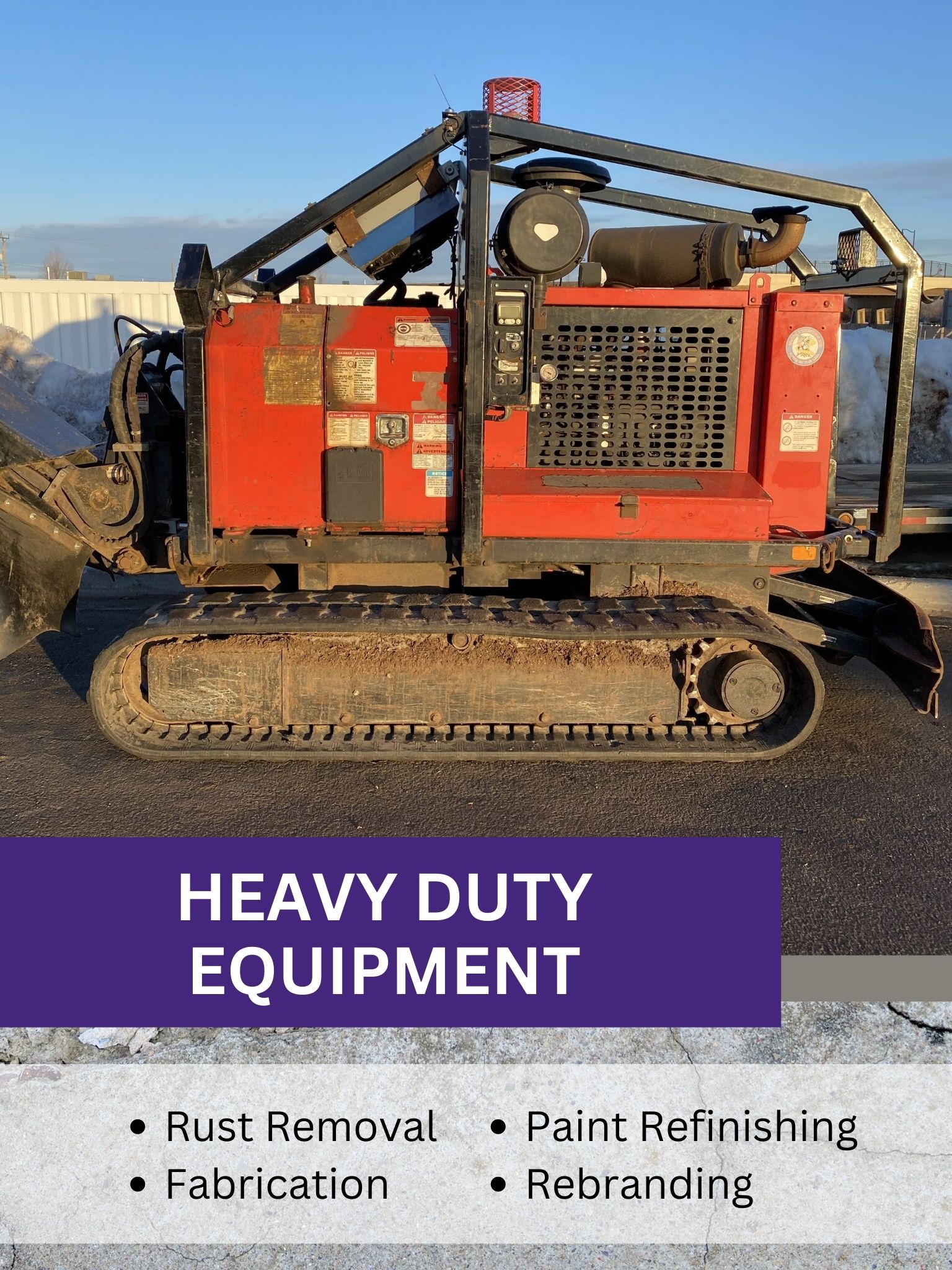 Heavy Duty Equipment
We specialize in servicing Heavy Duty Equipment, including everything from full-sized cranes to stump-grinders. Our expertise covers refurbishment, repairs, and rust removal, ensuring your equipment operates at it's best.
We offer a wide range of services to meet your unique needs. Whether you've recently purchased used equipment and seek rebranding or wish to revitalize your existing fleet, our team is here to help. Contact us today for a free estimate, and let's get your equipment back in peak condition!
Career Opportunities at Hoglund Body and Equipment
Hoglund Body & Equipment is an equal opportunity employer dedicated to the continous growth of our employees through a safe and positive work environment.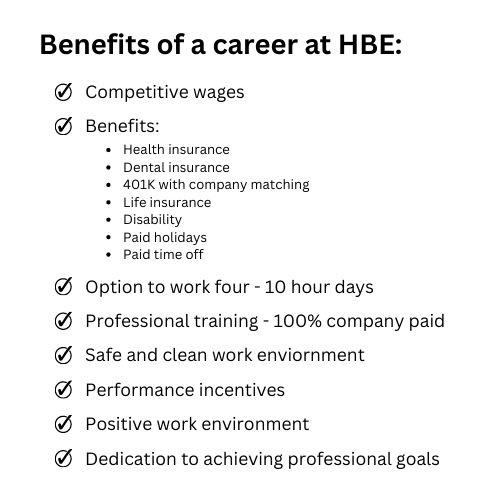 To apply, please complete the online application form at the bottom of the page, submit your resume via email, or download our application and send it to:
Email: monique@hoglundbody.com
Mailing Address: PO Box 1147, Monticello, MN 55362
For any questions please call our main office at (763)295-5000.
Click here to download our Employment Application
Current Available Postions:
This position will work with the Maintenance team to keep the office and shop clean and orderly, as well as conduct preventative maintenance/minor repairs on equipment. This position also drives customer and fleet vehicles for pick-up and delivery services. Click on the job title to view the full job desription and requirements.
The Auto Body Tecnician is responsible for taking any repair that comes in from start to finish including sanding, light dent repair, and rust removal. Click on the job title to view the full job desricption and requriements.
The Auto Body Painter is responsible for refinishing vehicles, parts, and equipment in accordance with company quality specifications and time standards. Click on the job title to view the full job description and requirements.
Online Employment Application:
Contact Information
View Larger Map
Howard Elsenpeter
Shop Manager
Mark Nelson
Sales/Estimating
Zach Resech
Sales/Estimating
Matt Vnuk
Production Coordinator
Randy Gunderson
Parts Manager
Monique Hoglund
Bergan
Chief Administrative
Officer
Hoglund Body and Equipment
Hoglund Body and Equipment is a family owned business since 2006, specializing in commercial vehicle and RV body repair. With 33,000 square feet of floor space, Hoglund Body and Equipment features state of the art equipment. We have two 60-foot paint booths and a 75-foot sandblast booth to accommodate any body repair.
Hoglund Body and Equipment has a team of experienced and efficient technicians who are focused on quality workmanship. We are Axalta (formerly DuPont) certified and provide color matching on all of our parts. For ease of service, we offer free mobile estimates and pick-up and delivery.
At Hoglund Body and Equipment, our mission is to assist our customers in achieving their goals by providing outstanding commercial vehicle body repairs at a competitive cost.